Shopify - Migration Guide
Shopify is making updates to its payments platform. Starting April 30, 2022, new merchants will no longer be able to install legacy Hosted Payment SDK (HPSDK) integrations. Existing merchants will have to switch to the new version of payment apps until July 31, 2022.

Please follow this simple guide to complete your migration to a new Paymentwall app.
---
Step 1: Install new Paymentwall App
Use the following link to initiate the installation: INSTALL PAYMENTWALL
Install the new Paymentwall app

If you need guidance during the installation process - refer to Step 2 of the Paymentwall for Shopify Installation guide

Set up your Webhook secret key by following Step 3 of the Paymentwall for Shopify Installation guide

With this update, you won't be required to input a project and secret key in any of the fields. The setup will allow you to seamlessly connect your Shopify store to your Paymentwall project.

Don't forget to activate the new app in the end of the installation
---
Step 2: Deactivate legacy Paymentwall Gateway
Follow this link to open the legacy Paymentwall Gateway settings: OPEN LEGACY APP

Tip: How to tell if you've opened the legacy app? It's configuration page has Public Key and Secret Key fields. New app configuration doesn't have them.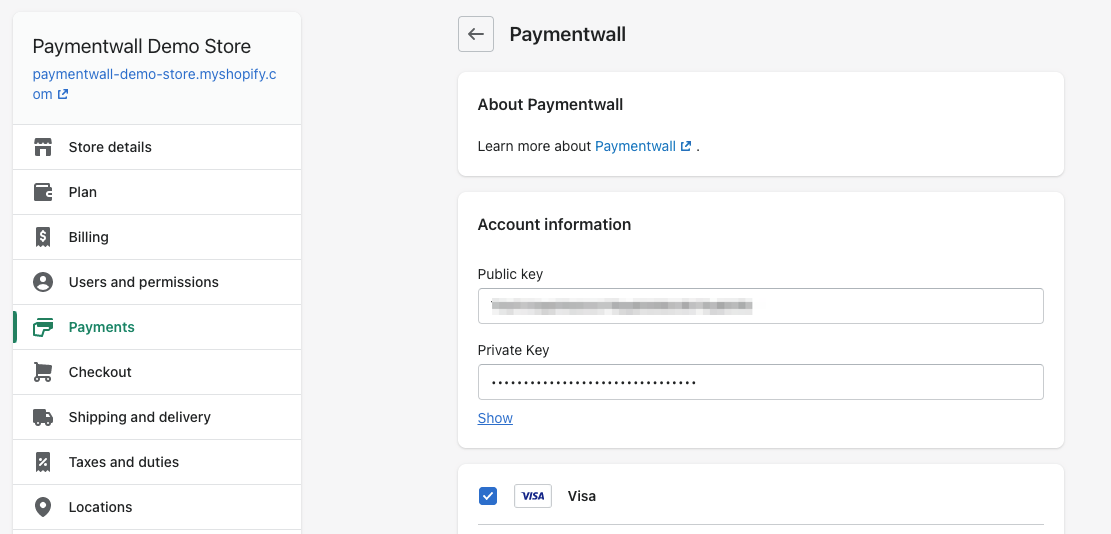 Scroll down and click Deactivate Paymentwall