Shopware 6
Use Paymentwall as a convenient method of payment for your Shopware 6 account. There are many great functions Paymentwall can offer to big or small merchants. Our payments system is logical, simple, and protected. It's made for do-ers by thinkers.
Prerequisites
Step 1: Set up your shop
You can start setting up your shop using the instructions from Shopware's getting started tutorial.
Step 2: Download and install Paymentwall plugin
Download Paymentwall plugin using on of the following options:

Download the plugin from Shopware App store

For German language version of the page please use this link

Download the latest version of ZIP archive from GitHub repository.

Please choose ZIP file named Paym1PaymentwallPayment6-x.x.x.zip with the highest x.x.x numbers

Install the plugin in your Shopware Admin under Extensions → My Extensions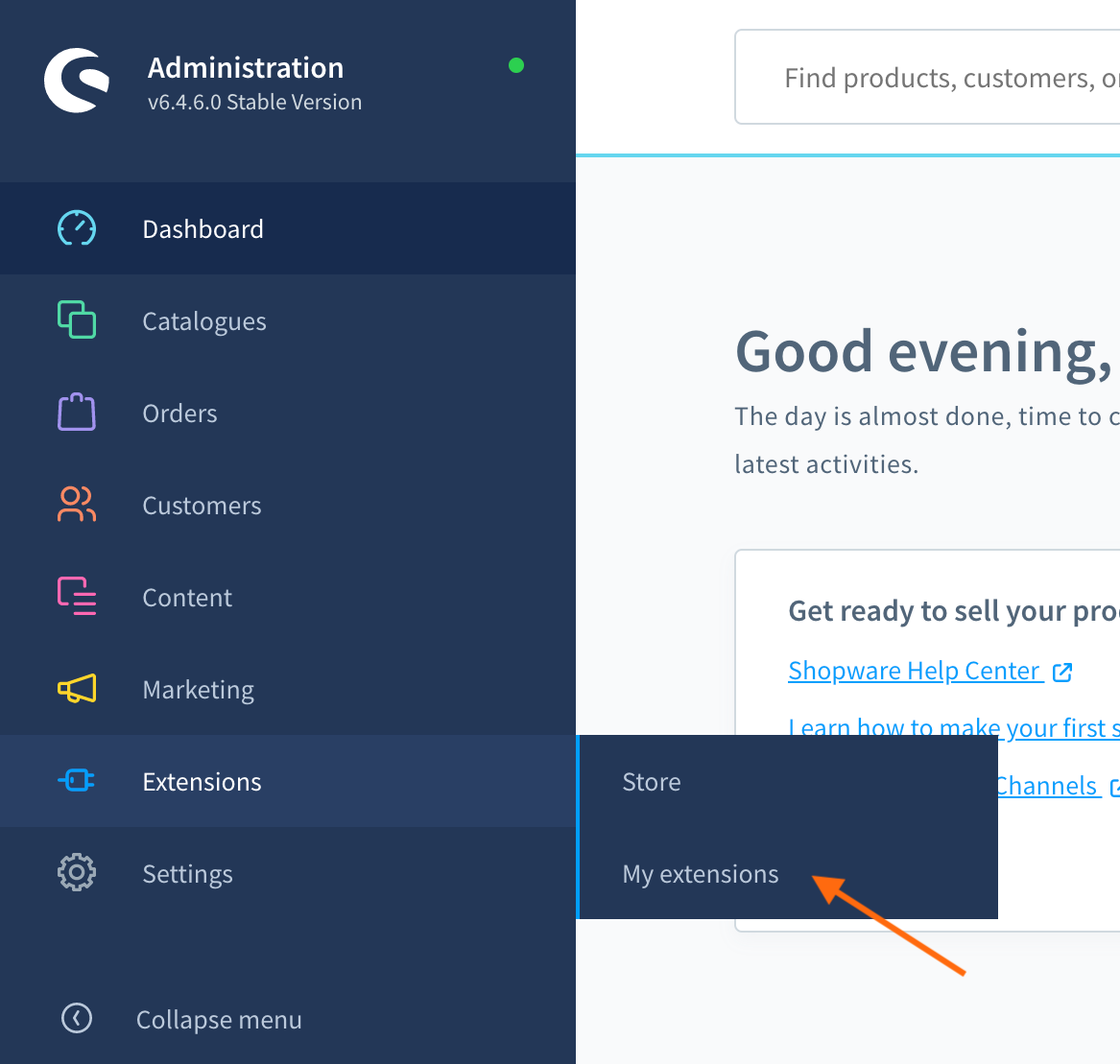 Turn on the Activate toggle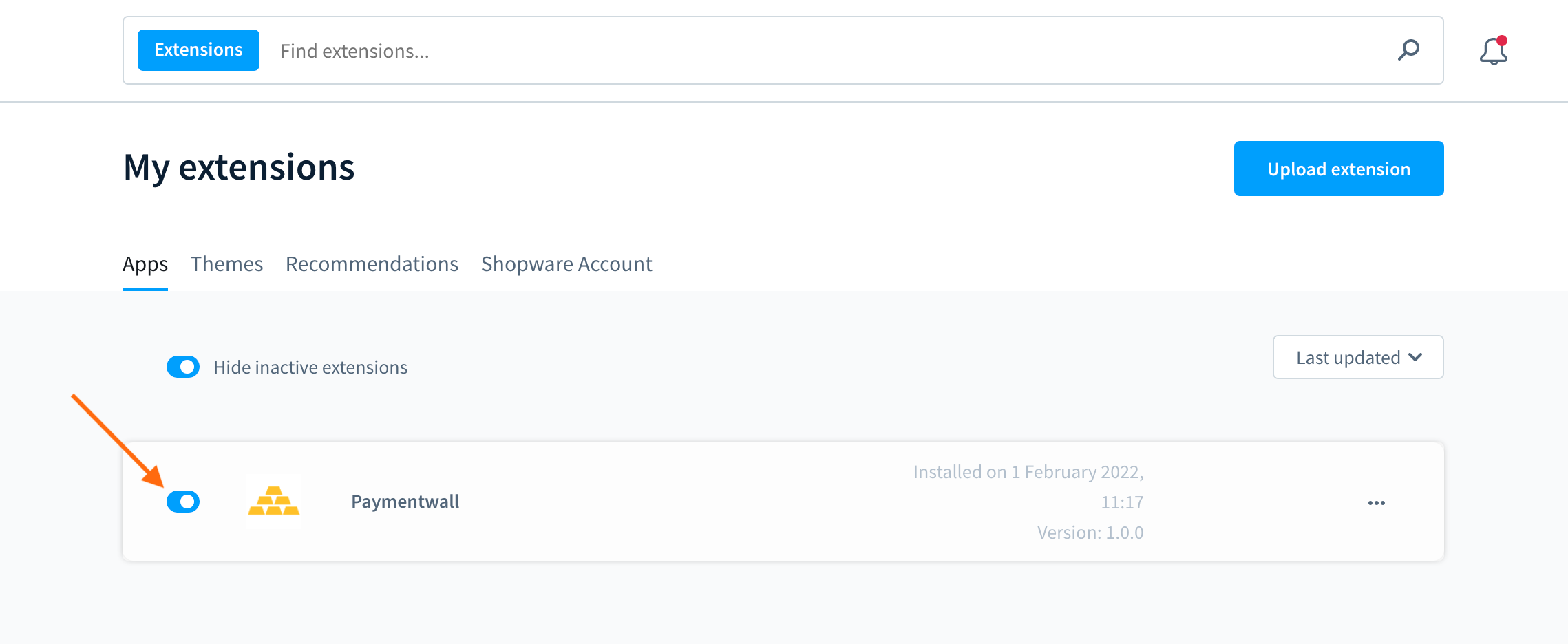 Step 3: Configure the project in Paymentwall
Login to your Paymentwall merchant account
Go to Project Settings → Settings

Make sure that Project URL is a correct URL of your Shopware store
Turn on the Widget signature is required toggle
Turn on the Evaluation mode toggle
Set Pingback type to "URL"
Set Pingback URL to "http[s]://[your-domain]/paymentwallPingback". Example: https://test-shopware.com/paymentwallPingback
Set Pingback signature version to "3"
Click Save changes.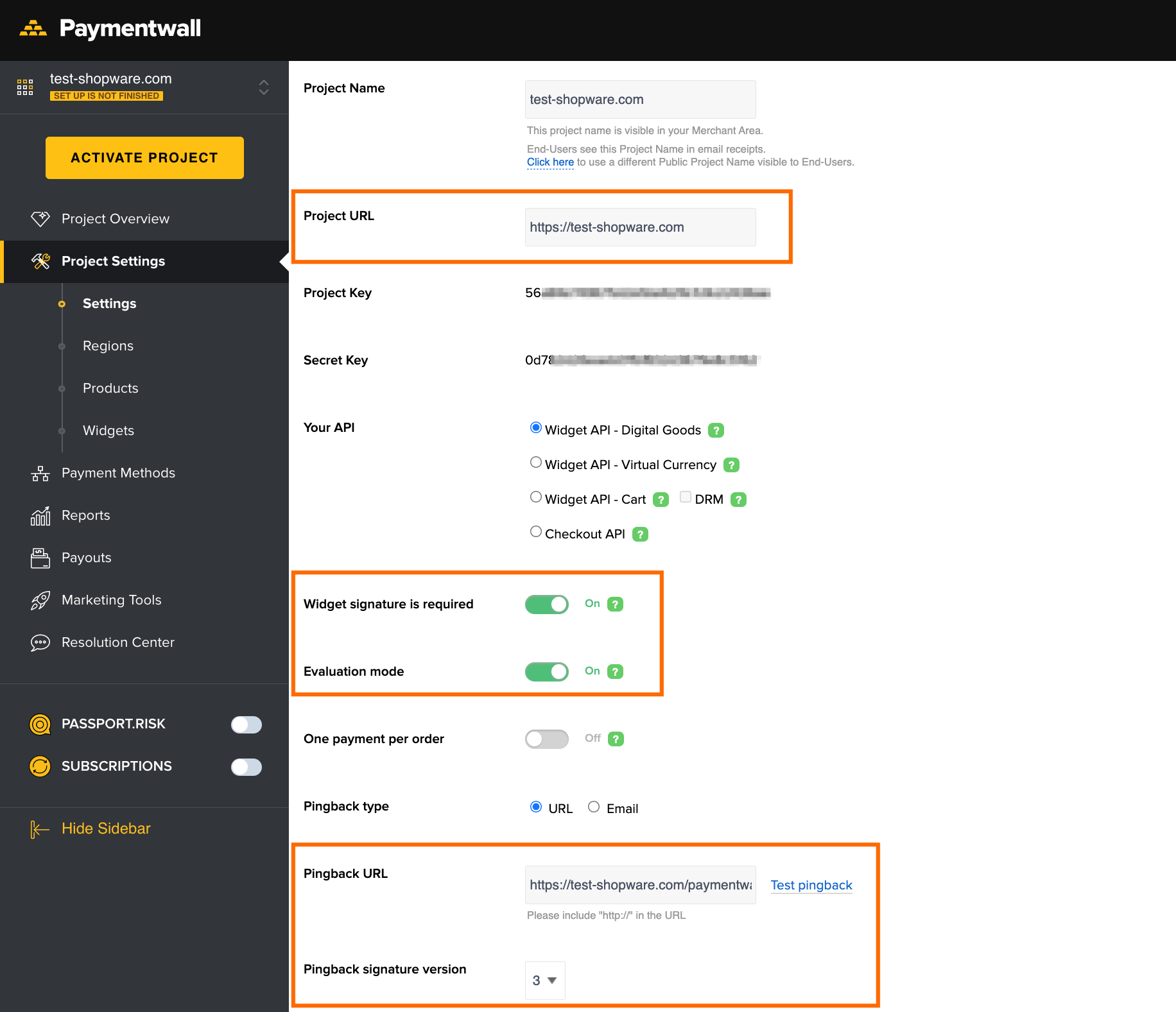 Do not close this page, as you will need it for further configuration steps
Step 4: Configure the Paymentwall plugin in Shopware Admin
Login to your Shopware admin
Go to Extensions → My Extensions
Find Paymentwall in the apps list, and click … → Configure in the right part of the row
Select the Sales Channel you would like to configure (All Sales Channels of the specific one)

Copy the following settings from your Paymentwall project and paste them to the Basic configuration section: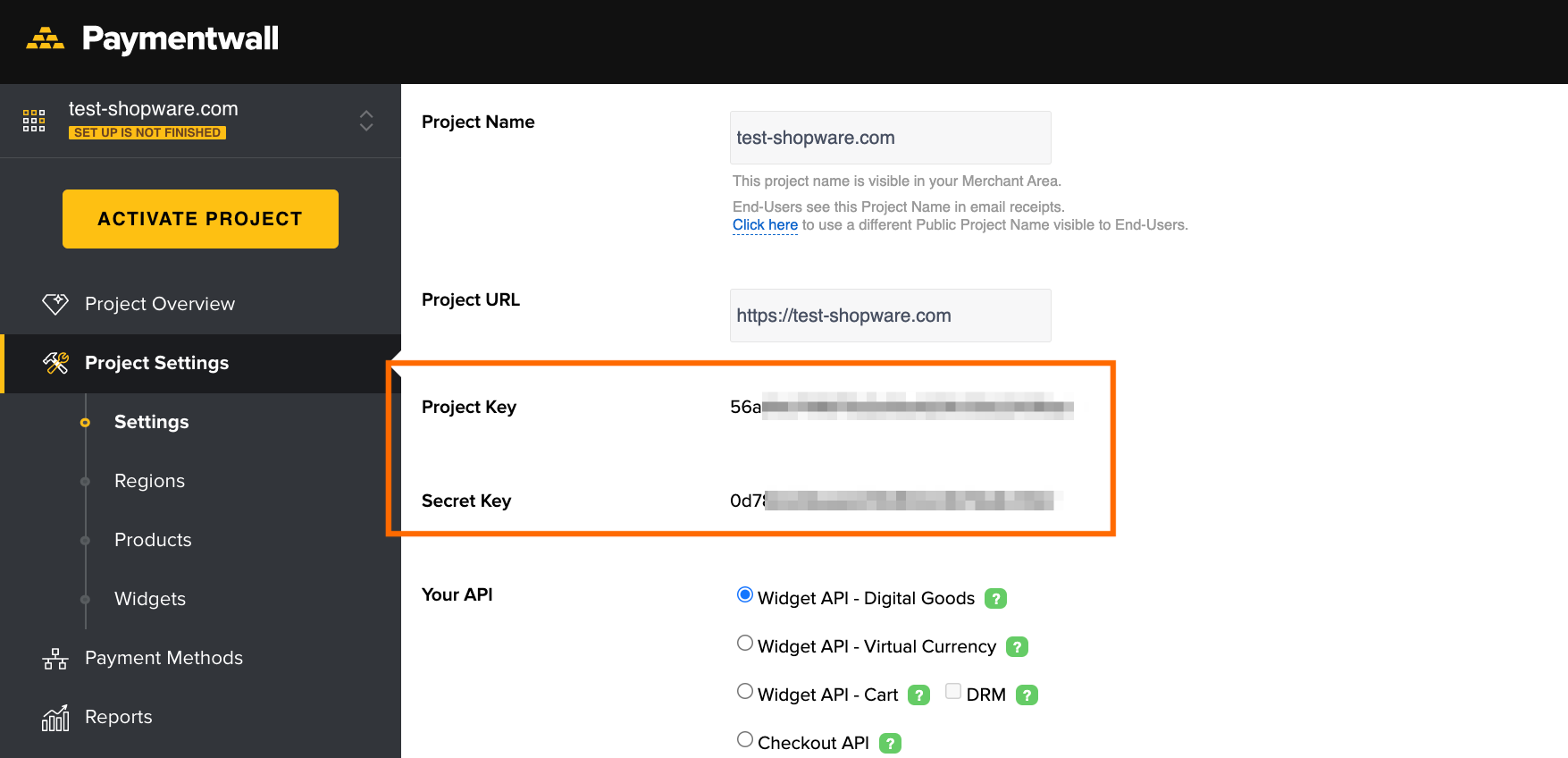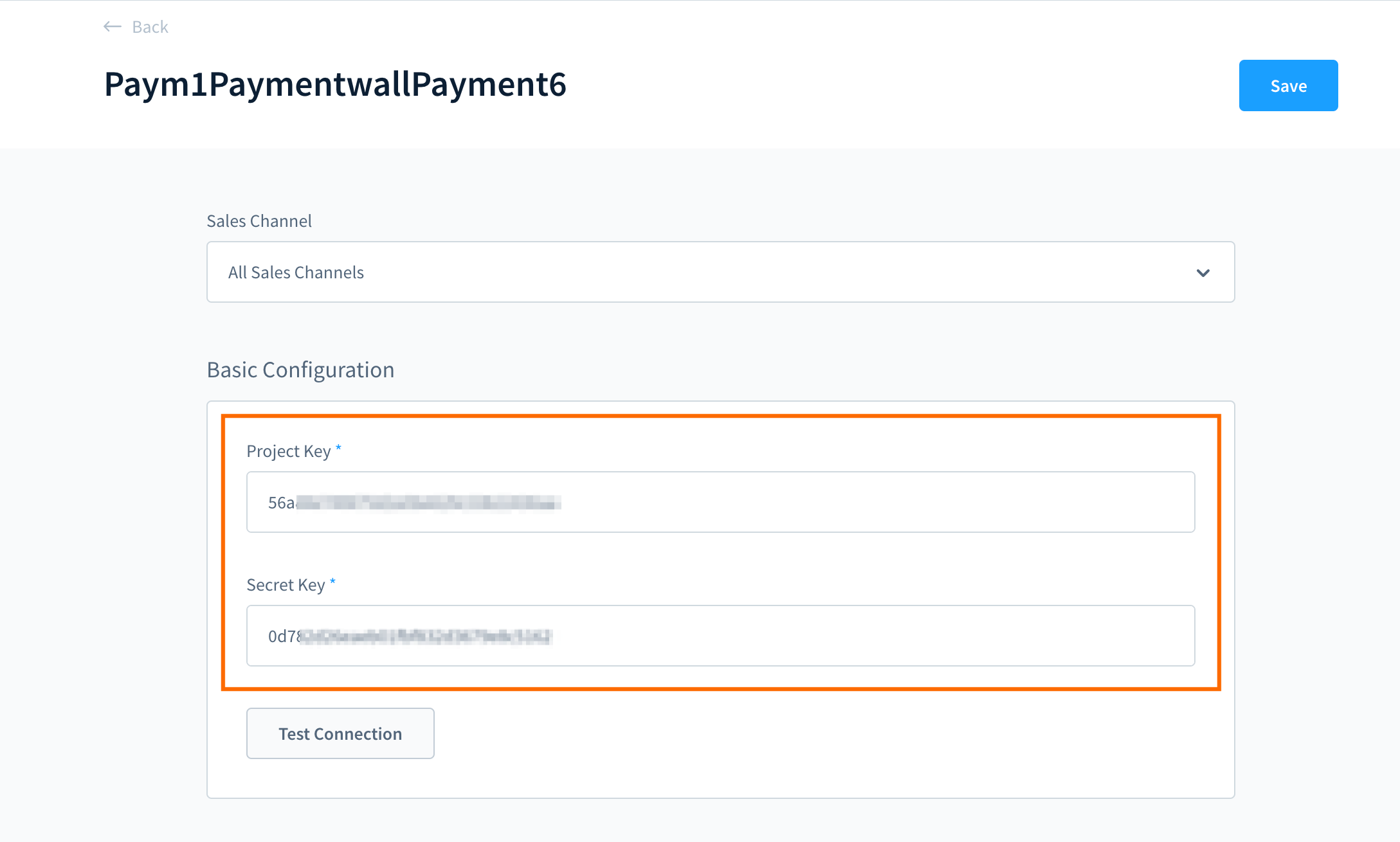 Additional settings:

To enable Test payment method - turn on Test Mode toggle

Click Save button

Step 5: Enable Paymentwall payment method for your storefront
Go to the Sales Channels and select the storefront
Scroll down to the Payment and shipping section.
Select "Paymentwall" in Payment methods dropdown

Tip: You can also set Paymentwall as Default payment method

Step 6: Let's Go Live!
You can start to test payments of your projects.
Once you make sure everything works smoothly, please submit your project to go live.
Support
Paymentwall provides support for all up-to-date Shopware versions.

The list of available Payment Methods can be discovered here.
Contact devsupport@paymentwall.com if you find the version of your Shopware module is not supported.